WhatsApp is developing an updated Mac app with native Apple silicon support, with the company providing a TestFlight beta today for some Mac users to try out the new version of the app.

Apple Silicon Macs have been able to use the Electron-based Intel version of WhatsApp for Mac since 2020 thanks to Rosetta 2, but no native version was available. A universal app optimized for Apple silicon should run faster and use fewer resources on M1, M1 Pro, M1 Max, M1 Ultra, and M2 machines.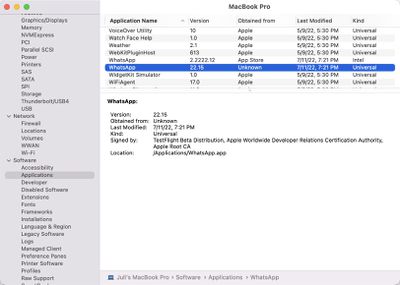 WhatsApp for Mac beta news was shared by WABetaInfo, and the website states that it is an early beta version, so some features may not work fully. The universal version of WhatsApp has an updated design that has a more Mac-like style with a dedicated sidebar, and it's significantly faster than the existing version.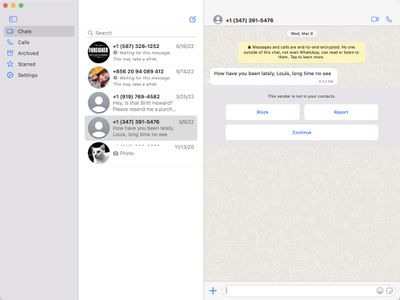 The sidebar provides easy access to Chats, Calls, Archives, Starred, and Settings, and the Chats interface also has an Apple-like style with Mac icons and a streamlined interface that feels more natural on Apple's devices.
There's no word on when the updated WhatsApp for Mac app will be released, but WhatsApp has been testing it internally for three weeks before providing a TestFlight version of the beta, so development is moving forward.
similar posts
WhatsApp is ending support for iOS 10 and iOS 11, requires iPhone 5S or later to function
WhatsApp will end support for iOS 10 and iOS 11 versions of Apple's mobile operating system, which will require all users to be running at least iOS 12 after October 24, 2022. That means iOS 10 and iOS 11 users – who will be primarily iPhone 5 and iPhone 5C owners – will no longer be able to use the encrypted chat service after the specified date. WhatsApp already states in its Help Center that …
WhatsApp introduces message reactions, larger file size limit, new maximum group size
WhatsApp has announced that it is rolling out several new features today that have been long-tested, including emoji reactions, larger file transfers, and larger groups. WhatsApp has been working on message reactions — or "tapbacks," in Apple Messages parlance — for some time, with evidence of their development first coming to light last summer. The function gives messages …
Discord with native Apple Silicon support is now rolling out
A version of Discord with native support for Apple Silicon Macs is now rolling out to users, nearly a year and a half after the first Macs with Apple Silicon chips shipped to customers. Previously, Discord users had to rely on Rosetta 2 technology to use Discord on Apple's latest Macs. Discord on Rosetta 2, which translates apps built for Intel-based Macs to…
WhatsApp boss confirms iPad app is possible: "We'd love to do it"
According to WhatsApp boss Will Cathcart, there could be a WhatsApp app for the iPad in the near future. In an interview with The Verge, Cathcart said people have been asking for an iPad app for a long time and that the company "would love to do it." Although Cathcart hasn't committed to a release date for a WhatsApp iPad app, the Meta-owned company has already laid the underlying structure in place…
WhatsApp is working on app for iPadOS and macOS with Mac Catalyst
According to WABetaInfo, WhatsApp is working on an app for iPadOS and thanks to Mac Catalyst also on an app for macOS. WhatsApp's rumored app for iPad will be a Catalyst app, allowing it to run seamlessly on macOS. This allows the same app to share code while running on separate platforms. Apparently the new WhatsApp app for macOS looks very similar to the app for iPadOS,…
Dropbox finally starts testing Mac apps with native Apple Silicon support
Dropbox has finally started testing a native version of its Mac app with Apple silicon support, after criticism from many customers and users that they initially thought it had no plans to take advantage of the latest Macs with Apple's custom processors. In October, official responses to comments on the Dropbox forums indicated that Dropbox had no plans to add support for Apple chips…
Machine learning framework PyTorch enables GPU-accelerated training on Apple Silicon Macs
In collaboration with Apple's metal engineering team, PyTorch announced today that its open-source machine learning framework will soon support GPU-accelerated model training on Apple Silicon Macs with M1, M1 Pro, M1 Max or M1 Ultra chips will support. Previously, PyTorch training on Mac only took advantage of the CPU, but an upcoming release will allow developers and researchers to take advantage…
WhatsApp stops auto-saving media before disappearing messages on iPhone
WhatsApp is changing the way the platform handles media sent via chats, with disappearance of messages enabled, reports WABetaInfo. Going forward, WhatsApp will no longer automatically save images and other visual media to your iPhone's photo library if they appear in a chat thread that has message disappearance enabled. The "Save to Camera Roll" option is now automatically disabled…
Popular Stories
Top Stories: iOS 16 beta 4, Apple Watch Pro rumors and more
We're probably about six weeks away from the iPhone 14 lineup's unveiling and Apple is still working to improve the iOS 16 update that's releasing alongside the new hardware, so we'll see a bunch of tweaks as it rolls through the beta moved testing phase. There were also some rumors this week about the rugged 'Apple Watch Pro' due to launch later this year, as well as some of the…
iPhone 14 still with improved performance despite A15 chip
According to the ShrimpApplePro leaker, the standard iPhone 14 models will still perform better than the iPhone 13 despite containing the same A15 Bionic chip. In March, Apple analyst Ming-Chi Kuo claimed that only the iPhone 14 Pro models will come with the A16 chip, while the standard iPhone 14 and iPhone 14 Max models, like the iPhone 13, will come with the A15 chip . In an April.. .
Intel will introduce Wi-Fi 7 in 2024 as Apple plans the upcoming move to Wi-Fi 6E
Intel plans to have its next-generation Wi-Fi 7 (802.11be) technology installed in devices by 2024, ETNews reports. Wi-Fi 7 is the successor to Wi-Fi 6E (802.11ax), delivering 2x faster data processing speeds of 5.8Gbps and more stable 6GHz bandwidth stability, and support for up to 36Gbps when working with data . Intel Plans to End Its Wi-Fi 7 Development Efforts Before…
Apple's online store is currently unavailable in some countries [Updated]
Apple's online store is currently unavailable in some countries including the United States, Canada, Australia, France, Germany, Italy, Spain, the United Kingdom and more. The downtime is not worldwide as the business is still operational in some other countries. "We're making updates to the Apple Store," the store page reads, as usual when there's downtime. Apple advises customers to "look back…
Apple adds eight more Macs to the vintage lineup
As expected, Apple today updated its vintage product list with eight more MacBook, MacBook Air, MacBook Pro, and iMac models released in 2015 and 2016. In particular, the first MacBook Pro models with Touch Bar are now classified as vintage. Apple introduced the Touch Bar in October 2016 as part of a complete redesign of the MacBook Pro. Apple has meanwhile removed the Touch Bar from the high-end models…
VMware Fusion Tech Preview brings Windows 11 to Apple Silicon Macs
VMware announced this week that its latest VMware Fusion update brings Windows 11 support for Intel and Apple silicon Macs. Available as a free tech preview, the 2H22 version of Fusion will finally allow Apple Silicon Mac users to download and use Windows on their computers through virtualization. Features include Windows 11 support with 2D GFX and networking, VMtools installation for…
Apple is expanding the Apple TV gift card offering to more countries
Apple has expanded a previously US-exclusive Apple TV gift card offer to additional countries worldwide, offering customers a gift card alongside the purchase of an Apple TV 4K or Apple TV HD. The original offer launched last month for US customers and gave buyers a $50 gift card with the purchase of an Apple TV. After the Apple Store outage in several countries, Apple…