Apple today updated its online store to offer several new Mophie products, including the Powerstation Pro, the GaN 120W charger and several car chargers.

The Mophie Powerstation Pro costs $150 and offers 20,000 mAh for charging iPhones, iPads and other Apple devices. It offers up to 45W so it can charge a MacBook Air and it can fast charge iPhone and iPad.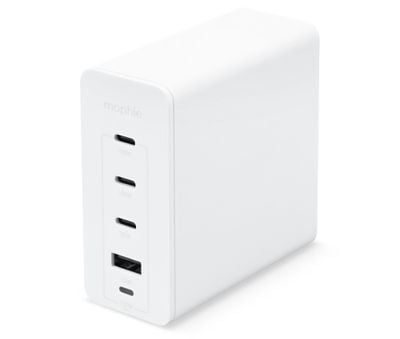 There are two USB-C PD ports for charging two devices at once, and Mophie says it offers 72 hours of extra battery life on an "iPhone" and eight hours for a MacBook.
Available for $100, the Mophie Speedport 120W GaN Wall Charger includes three USB-C PD ports and one USB-A port for charging up to four Apple devices simultaneously. It delivers a total of 120W that can be divided between the devices to be charged.
A single device using the first USB-C port can access up to 100W, while two USB-C ports can provide charging power from 99W. It's made with gallium nitride (GaN) technology to keep the size compact, and it comes with a 2m USB-C to USB-C cable.
Apple also offers several different Mophie car chargers, all of which can be plugged into the 12V auxiliary socket in a vehicle.
All new Mophie products are available to purchase starting today, with most arriving by next week. Many Apple retail stores now also offer this Mophie accessory.
similar posts
Anker's new 100W GaN charger features three USB ports and is 34% smaller than Apple's 96W charger
Originally announced at CES in January, the US version of Anker's highly anticipated 736 USB charger is now available through Amazon for $75.99 in black/silver. Featuring Anker's GaN II technology, the 100-watt 736 charger is 34% smaller than Apple's 96-watt charger, yet offers the flexibility of three USB ports to charge multiple devices when needed. The 736 has two USB-C ports…
Bloomberg confirms Apple is testing iPhones with USB-C ports
According to Bloomberg's Mark Gurman, Apple is indeed testing iPhones equipped with USB-C connectors instead of Lightning connectors. Apple doesn't plan to switch from Lightning to USB-C until 2023 at the earliest, with this year's iPhones still offering a Lightning connector. We first heard about a potential move to USB-C from Apple analyst Ming-Chi Kuo, who said earlier this week…
Five Apple products are said to be switching to USB-C
While the iPhone still uses the Lightning connector for now, Apple has transitioned many of its devices to USB-C in recent years. Apple now offers USB-C ports on every Mac currently sold, from the MacBook Air to the Mac Pro. Other devices with a USB-C port include the 2018 and newer iPad Pro, 2020 and newer iPad Air, 6th generation iPad mini, Studio Display and Pro…
The entry-level iPhone 15 and iPad are said to be moving to USB-C
Apple's transition from its proprietary Lightning connector to USB-C appears to be continuing with the iPhone 15 and the next entry-level iPad. Earlier in May, Apple analyst Ming-Chi Kuo said his latest supply chain survey found that at least one new iPhone 15 model will feature a USB-C port in the second half of 2023. Shortly after Kuo shared this information, Bloomberg's Mark Gurman said. ..
Apple's rumored charger with dual USB-C ports reportedly shown in leaked images
ChargerLAB today shared purported images of Apple's unreleased 35W power adapter with dual USB-C ports and gave a first look at the accessory's potential design. The images suggest the charger will have a compact design with side-by-side USB-C ports, foldable prongs, and circular indentations that would provide additional grip for removing the charger from an outlet. 35W would be suitable…
Engineering student creates custom AirPods with USB-C charging case
After engineering student Ken Pillonel last year presented the world's first iPhone with a fully functional USB-C connector, he has now created custom AirPods with a USB-C charging case instead of Apple's proprietary Lightning connector. Pillonel told The Verge that he managed to design a custom flexible circuit board that allowed him to fit the necessary USB-C charging hardware into the AirPods case, and…
Unpublished 35W Dual Port USB-C Charger in Apple Doc
Apple may be planning to introduce a 35W dual-port USB-C charger in the near future based on a leaked support document found by 9to5Mac. The support document was apparently only briefly on Apple's site, but there was clear mention of the unreleased charger. Apple's current 30 W power adapter Since no power adapter with two USB-C ports is currently available, it may be that…
Popular Stories
iPhone 14 can still boast of performance improvements despite the A15 chip
According to leaker ShrimpApplePro, the standard iPhone 14 models will still perform better than the iPhone 13, despite containing the same A15 Bionic chip. In March, Apple analyst Ming-Chi Kuo claimed that only the iPhone 14 Pro models will come with the A16 chip, while the standard iPhone 14 and iPhone 14 Max models, like the iPhone 13, will come with the A15 chip . In an April.. .
Apple adds eight more Macs to the vintage lineup
As expected, Apple today updated its vintage product list with eight more MacBook, MacBook Air, MacBook Pro, and iMac models released in 2015 and 2016. In particular, the first MacBook Pro models with Touch Bar are now classified as vintage. Apple introduced the Touch Bar in October 2016 as part of a complete redesign of the MacBook Pro. Apple has meanwhile removed the Touch Bar from the high-end models…
Intel will introduce Wi-Fi 7 in 2024 as Apple plans the upcoming move to Wi-Fi 6E
Intel plans to have its next-generation Wi-Fi 7 (802.11be) technology installed in devices by 2024, ETNews reports. Wi-Fi 7 is the successor to Wi-Fi 6E (802.11ax), offering 2x faster data processing speeds of 5.8Gbps and more stable 6GHz bandwidth stability, and support for up to 36Gbps when working with data . Intel Plans to End Its Wi-Fi 7 Development Efforts Before…
Apple's online store is currently unavailable in some countries [Updated]
Apple's online store is currently unavailable in some countries including the United States, Canada, Australia, France, Germany, Italy, Spain, the United Kingdom and more. The downtime is not worldwide as the business is still operational in some other countries. "We're making updates to the Apple Store," the store page reads, as usual when there's downtime. Apple advises customers to "look back…
Apple Watch Edition begins sale ahead of Series 8 launch
The Apple Watch Edition models have sold out just a few weeks before the expected Apple Watch Series 8 announcement. Several of the high-end titanium Apple Watch Series 7 models are listed as "currently unavailable" on the Apple Online Store in the US, Canada, UK and select other countries. In the United States, availability of 41mm…
Apple is expanding the Apple TV gift card offer to more countries
Apple has expanded a previously US-exclusive Apple TV gift card offer to additional countries worldwide, offering customers a gift card alongside the purchase of an Apple TV 4K or Apple TV HD. The original offer launched last month for US customers and gave buyers a $50 gift card with the purchase of an Apple TV. After the Apple Store outage in several countries, Apple…
Deals: Apple Watch Series 7 returns to all-time low price of $279.99 ($119 off)
Amazon has discounted the 41mm GPS Apple Watch Series 7 to $279.99 from an original price of $399.00. The only color available at this price point is the green aluminum case with a trefoil sport strap. Note: MacRumors is an Amazon affiliate. If you click a link and make a purchase, we may receive a small payment to help us keep the site running. With a $119 discount, today's sale on Amazon is a…